DIY Community Chill 2018 was a Great Success!
We want to thank everyone who made last month's Community Chill Night a great event! If you couldn't make the event, check out these great photos:
Each year, we give out three awards. The first, Volunteer of the Year, goes out to a DIY Lowell volunteer or volunteers who exhibited special excellence in leading or working in a DIY Lowell group. This year, we had two winners:
The second, Community Transformation Award, goes to a community group or nonprofit that went above and beyond transforming or activating an underutilized or overlooked public space, as chosen by the DIY Lowell Advisory Committee. Congratulations to the No Bully Zone for winning! See all the nominees here:
Finally, we selected two Best Chilis by popular vote, one from a professional and one from an ameteur! Our winners:
Thanks to all our sponsors and volunteers, who made the event shine! It's still not too late to donate, just click here to donate by Paypal or check! Thanks to:
Paul Marion and Rosemary Noon
Greater Lowell Community Foundation
Studio 26 Architecture
Enterprise Bank
Jeanne D'Arc Credit Union
Mr. & Ms. Joe Smith
Yun-Ju Choi
Made in Lowell
Coalition for a Better Acre
Lowell Film Collaborative
Lowell Bike Coalition
Points of Light Committee
Humanity Boutique
Brew'd Awakening
Sweet Lydia's
St. Anne's Episcopal Church
Christine Bruins, Tom Hood, Chuck Arnold, Mary Tauras, and many more!
What's new with DIY Lowell?
There's never been a better time to start connecting with DIY Lowell!
Community Chill Night
We're having a Community Chill Night fundraiser this March 9! A special chili contest party with chili sampling, music, games, nonalchoholic drinks, community awards, and our famous "Chilly" DIY Sundae bar! We'll have special activities such as lantern decorating for the Points of Light Lantern Celebration, photobooth, and learning about our 2018 projects. It's the perfect way to break winter malaise for families, teens, seniors, and adults! Join the Facebook Event, register here, and join us for a special night.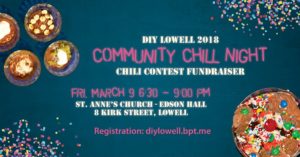 Lowell Trash Machine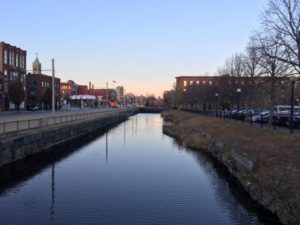 The Lowell Trash Machine is a community volunteer based project to design, construct, and operate an autonomous robot to remove floating trash from the historic canals. UMass Lowell students are designing and building the prototype, and the DIY Lowell team is running a naming contest, connecting with high schoolers to add creative elements to the utilitarian robot, and more. Learn more at their website!
Summer Dreaming Downtown Pixie Marketplace and Festival
The Midsummer Dream event will be a summer day and night festival for kids and adults with a magical fairy theme, with a marketplace, costume contest, kids craft and storytime, and a special "traveling" production of Shakespeare's classic "A Midsummer's Night Dream" that will lead the audience through downtown, traveling from scene to scene. This event will be in honor of Lee Pho, owner of Little Delights and a force for magic and joy in Downtown Lowell, who we lost to cancer last year. DIY Lowell, Humanity Boutique, Pollard Memorial Library, and Studio 506 Theatre are partnering for the event, but we need community help! Our next planning session is Thursday, February 8. Join the Facebook event via the link!
We want to send our sincere thanks to UTEC, Lowell Cultural Council, all our performers and speakers, the community experts, and especially the participants who made another great summit happen. If you missed it, don't worry! Each of the project groups has chosen a meeting date, and it's not too late to start helping them! Reply to this email if you're interested–or just show up to their upcoming meetings–one of which is next Wednesday!
Canal Trash-Eating Monster
A smaller-scale artistic barge that skims trash off the canals to be launched next year.
Meeting August 8, 6:30 pm, at Mill No. 5
Trash Awareness Project
An interactive, temporary art installation made out of trash pulled from canals.
Meeting next Wednesday, July 26, 7 pm, at Coffee & Cotton (Mill No. 5)
Lowell Voices
A podcast filled with perspectives and stories from the Acre.
Meeting August 15, 12:30 pm, at Sizzling Kitchen
Rooftop Dining Activation
A special evening event on top of a garage or private roof next summer.
Meeting Thursday, August 24, at Coffee & Cotton (Time TBD)
Wildcard: Rooftop Garden Installation
A pop-up demonstration of a green roof open to the public.
Meeting September 11, Location & Time TBD
Email info@diylowell.org if you're able to pitch in on any of the above projects! We're very excited to see them move forward!