Get ready for the 2017 Community Idea Summit
The votes are tallied and we're excited to announce the winning four ideas to be discussed at our summit next Thursday, 7/20, 6:30 pm, at UTEC.
Canalways Trash-Eating Wheel – Research and Demo
Trash Awareness Project – Artistic Refuse Installation
Lowell Voices – Podcast Series
Rooftop Dining and Drinking – Special Evening Event
We'll kick off the summit with opening musical and dance performances. Once everyone is energized, NPS Staff Christine Bruins and Resi Polixa will give insider information on their recent projects. Lowell historian and Lowell Walks coordinator Dick Howe Jr. will give an inspirational keynote. Then we'll break into groups to discuss the winning projects and the wildcard.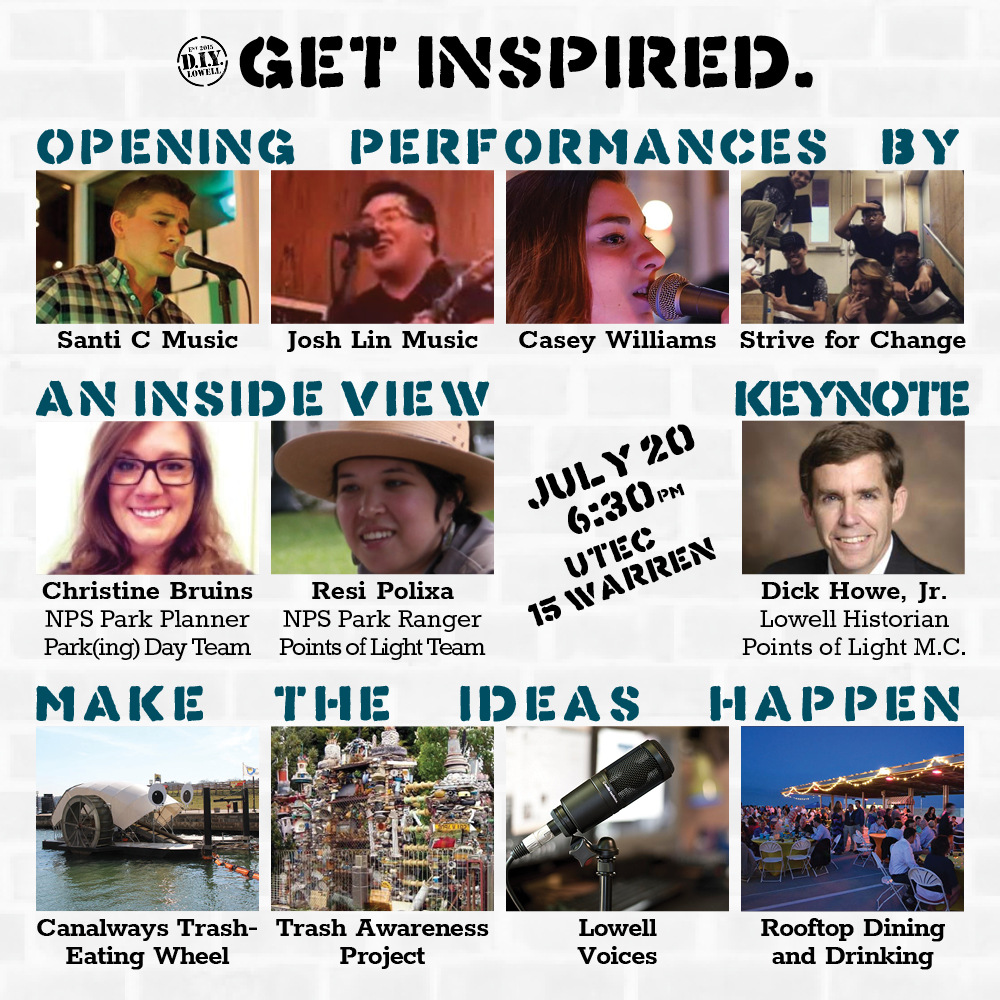 Want to get inspired? Join us next Thursday, 7/20, 6:30 pm, at UTEC (15 Warren St). Add it to your calendar:
iCalendar  •  Google Calendar  •  Outlook  •  Outlook Online  •  Yahoo! Calendar
…and please RSVP on Facebook and share with your friends!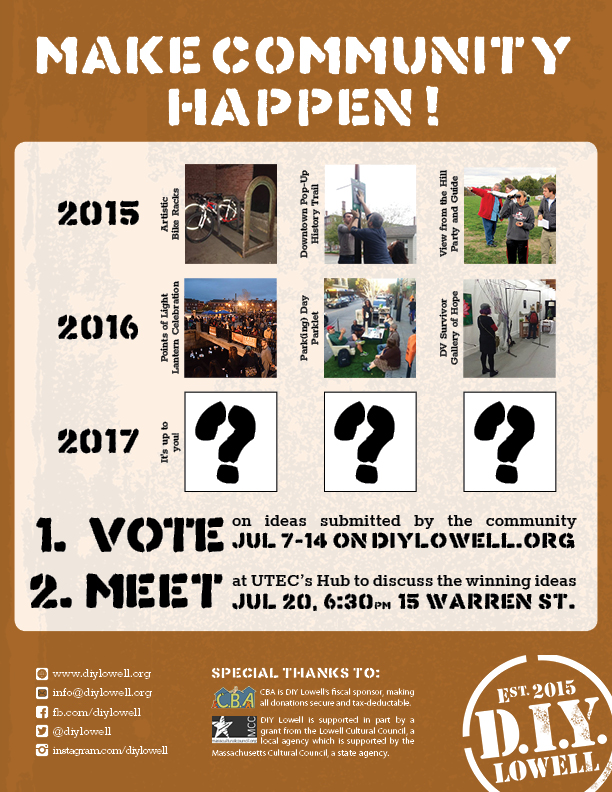 Thanks for a great event!
Community Chill Night was an amazing success with an estimated 100 participants, ten chilis, six projects featured in a community video, Do-it-Yourself nametags, and a "Chilly" DIY Dessert: an Ice Cream Sundae Bar! The remarkable evening was capped by a special performance by Lowell's one and only Party Band.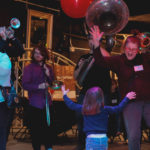 For our image gallery, click here!
We would like to thank the following groups and people:
Co-Sponsors
Chili Participants
Cafe UTEC's Vegetarian Black Bean
Maxine Farkas's Chili Verde with Pork
Lowell Film Collaborative's Vegan Film Lover's Special
The Party Band's Temptation
110 Grill Chelmsford's Chili
Jennifer Myers's Gobble Gobble Great Turkey Chili
Purple Carrot Bread Co. Spicy Black Bean and Jalapeño Chili
Dave Oullette's Daveyo Chili
Chas's "What's in the Fridge"
Volunteers
Amrith Fernandes Prabhu
Christine Bruins
Russell Pandres
Henry Marte
Rithy
Carolyn delehanty
Chhavy and Vytha
Claudia DeFuria
Allyson
…and the DIY Lowell Steering Committee!
DIY Lowell Community Chill Night
Join us  Friday, March 3, 6:30 – 9:00 pm at the Onyx Room in Western Avenue Studios for "Community Chill Night," a chili contest fundraiser and the kick-off for the 2017 DIY Lowell Season. Celebrate with community connections, music, and other fun surprises including a "Chilly" Do-it-Yourself dessert. Feel free to RSVP and spread the word on Facebook!
We will honor a DIY Lowell volunteer and an outside community group at the event:
Chhavy Sinuon won Volunteer of the Year for her dedicated work on the lovely Domestic Violence Survivor Gallery of Hope. The interactive galler showcased survivors' stories and art interpretations of their journey. More than 150 visitors found art that they could read, touch, see, feel, and hear in the three days it was active. It started conversations and connected people to resources. Check out a Lowell Sun report here and a photo gallery here.
Acre Coming Together Improving our Neighborhood (ACTION) won the Community Transformation Award for Decatur Way, a five-year project of building partnerships and bringing together hundreds of people to transform a forgotten alley that hid crime into a vibrant pedestrian way filled with art and vibrancy. Artists, Poets, and Citizens are continuing to come together to create art that will spill from the walkway into the neighborhood. Check out a Sun story here.
Please join us in honoring Chhavy, ACTION, and our other DIY Lowell volunteers and community groups. $5 suggested donation, but we won't turn anyone away who wants to meet cool people and learn about community. RSVP on Facebook or by emailing info@diylowell.org. Fun for the whole family!
Add the Community Chill Night to your calendar:
iCalendar  •  Google Calendar  •  Outlook  •  Outlook Online  •  Yahoo! Calendar