The Great Lowell Café Crawl!
Note: You may still donate, but the Great Lowell Re-Opening Café Crawl is over–stay tuned for the winners!

Want to support local business and DIY Lowell at once? Join us on the Great Lowell Re-Opening Café Crawl!
For a $20 donation, you'll receive a Café Crawl Card and two special thank-you stickers in the mail. When you present your card to a participating café, they will check off their name on the card and give you a special (cafés and specials listed below), limit one special per card per café.
Customers are limited to one special per café per card.
Share a photo on Twitter or Instagram at each café you visit tagging @diylowell and #diylowellcafecrawl to be entered into a weekly raffle for gift cards from participating cafés and more pulled each Saturday in November.
Email a photo of your card with as many punches you can get before Nov. 30, because each punch will count as a raffle entry for you in our FINAL RAFFLE on Dec. 1.
If your card is filled up with punches from every café, you're entered into the grand prize: naming a drink for a week at Brew'd Awakening!
What are you waiting for? Donate with major credit cards or with a Paypal account by clicking the button below (donation is made secure via Paypal's system but you can use any payment method)–make sure to share your current mailing address in so we can mail you the stickers and card! You may also pay by check with the instructions here. Don't forget to email your mailing address to us at info@diylowell.org if you send a check.
Participating Restaurants
| | | | |
| --- | --- | --- | --- |
| | Brew'd Awakening | 61 Market St., Lowell, MA 01852 | $2 off a purchase of $5 or more |
| | Coffee and Cotton | 250 Jackson St., 4th floor, Lowell, MA 01852 | One free medium drip coffee (hot or iced) with any food purchase |
| | Gallery Z | 167 Market St., Lowell, MA 01853 | Coming soon! |
| | Little Delights Bakery | 132 Merrimack St., Lowell, MA 01852 | Free Cupcake with purchase |
| | Panela Restaurant | 7 Hanover St., Lowell, MA 01850 | Free hot Colombian chocolate, in-store or to-go, when you order any breakfast item |
| | Purple Carrot Bread Co. | 107 Merrimack St., Lowell, MA 01852 | Free medium coffee hot or iced with purchase of $3 or more |
| | Rosie's Café | 155 Middlesex St., #1B, Lowell, MA 01852 | Medium coffee + muffin for $5.00 (save 50 cents) |
| | The Worthen House Café | 141 Worthen St., Lowell, MA 01852 | 50% off one appetizer |
| | Wham's Café | 737 Lakeview Ave, Lowell, MA 01850 | Free Kahawa Coffee or Soda Can with each order or $1.00 off a 16oz or 24oz Smoothie or Frappe |
Special thanks to all participating restaurants and to the DIY Lowell Advisory Committee for organization and support.
Helping Centralville Connect by Improving the River Path


We're excited to announce a new community project! THE RIVER PATH project will make small improvements to identify and brighten up the riverside path between Bridge Street and Aiken Street, along with its entrances at both ends. We're considering signage, art, plantings in the park, and more.
The goal of this project is to identify challenges, implement short-term solutions, and plan for long-term changes. Between last November and February, DIY Lowell took a preliminary survey with over 100 respondents to judge interest and themes desired by the community. In July, DIY Lowell teamed up with Lowell Litter Krewe for a successful clean-up and pop-up public meeting at the Bridge Street trailhead (Gold Star Park). There, participants commented on initial concepts for short-term interventions inspired by the first survey. Those comments have been incorporated into designs and translated into concepts for longer-term changes by a pro-bono landscape designer, Jess Wilson!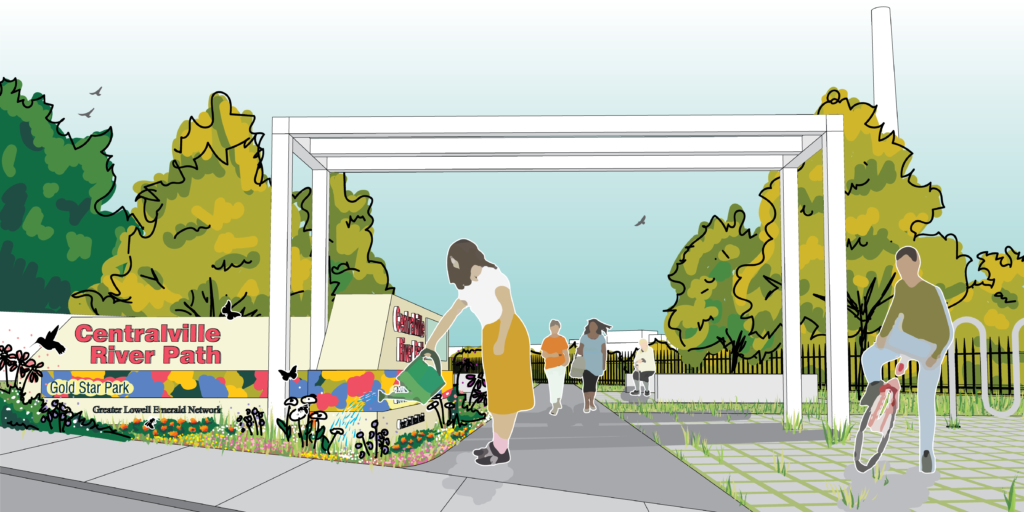 DIY Lowell is now engaging in agency meetings leading up to a community meeting to discuss the final design in early spring 2022! We'll do quick-build demonstration improvements summer 2022. Check out this preview of our vision, created by pro-bono designer Jess Wilson based on community input! We are proud to work with Lowell Litter Krewe, who will then lead the creation of permanent improvements over 2022-23 with funding secured by the State Delegation. They're going to work hand-in-hand with us and the community that uses this amazing resource making the vision a reality!
You can still help! Join our mailing list if you want to know about future clean ups and other opportunities. Please email us at info@diylowell.org if you want to be involved in any other way.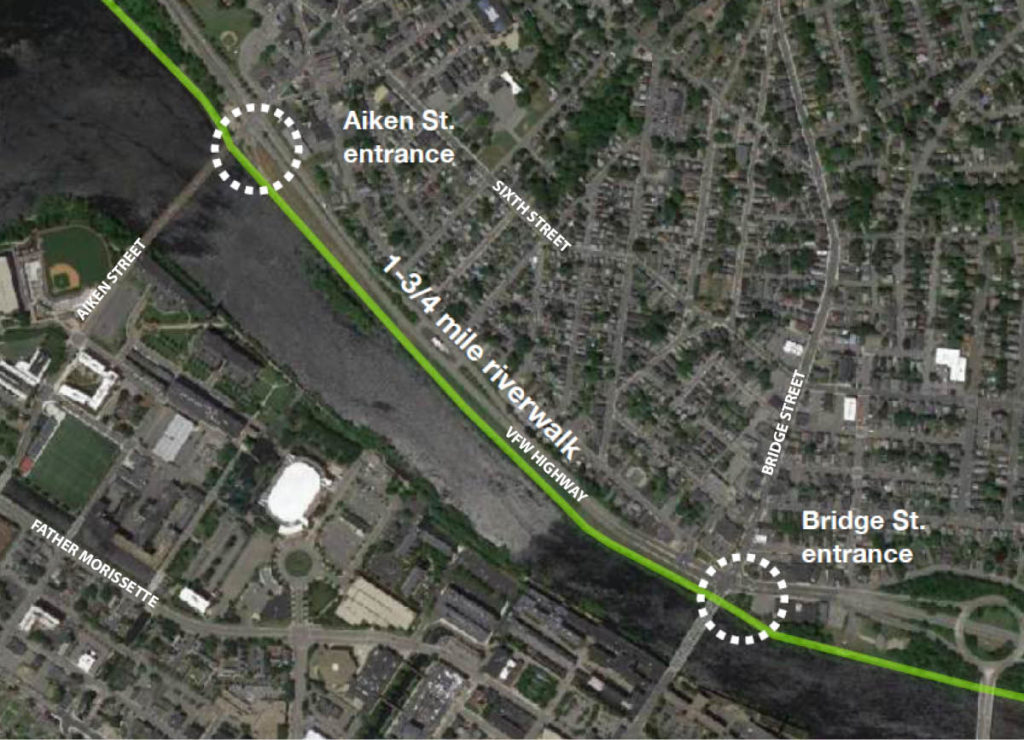 Email info@diylowell.org with any questions or comments.
THE RIVER PATH project facilitation is funded by the Solomon Foundation's Streets for Recovery program.
DIY Lowell stands in solidarity–and is listening
Dear friends and family,
During the past ten days, DIY Lowell has witnessed and listened to the Black members of our community and the other diverse voices calling for reform in cities across the United States, including our own.
DIY Lowell's utmost values are diversity, inclusivity, and community involvement. Our mission includes bringing people of different backgrounds together to learn from one another on how to make meaningful change in our community. We focus on public spaces, supporting projects that are inclusive, non-discriminatory, and provide a forum for diverse people to enjoy Lowell on equitable ground.
As we've discussed this mission in light of the national—and even more importantly, the local—conversation, we have come to agree that we must focus on promoting an idea: community spaces must be actively anti-racist. People of all backgrounds must feel safe, welcome, respected, and free from harassment. Our community must ensure this regardless of their race, their circumstances, or their appearance. We wish to let everyone know: we support the Black Lives Matter movement and the nationwide protests in the wake of the death of George Floyd at the hands of police. We add our voices to the urgent calls for reform.
DIY Lowell is committed to actively invite and include everyone. Over the last year, we have sought grants to reach out to more diverse members of our community, through meeting them where they're at, translating and interpreting, and holding special focus groups. We'll redouble our efforts and prioritize this work.
Just as importantly, we'll continue listening and urge anyone who feels so moved to contact us and let us know how we're doing. We don't always hit the mark, but we want to know if we're aiming in the right place. Please tell us.
A community leader friend once told us that Do-it-Yourself Lowell would be more accurately called "Do-it-Together Lowell." We believe in the power of community members learning from one another, gaining the skills and connections to claim their Right to the City. We believe that not only must our public spaces be equitable, but also that all aspects of our city must be equitable. We look forward to playing a role in achieving that equity for all.
Thank you,
– The DIY Lowell Team