2022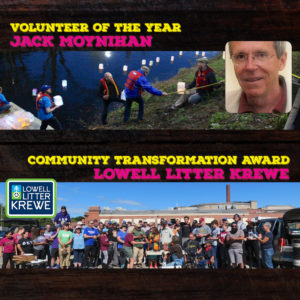 We are so proud to announce Jack Moynihan as Volunteer of the Year and Lowell Litter Krewe for the Community Transformation Award!
We've had the pleasure of working with Jack since we first formed six years ago. For years, Jack has been serving the Lowell community as a board member of Merrimack Repertory Theatre, Whistler House Museum of Art / Lowell Art Association, Inc., Lowell Canalwater Cleaners, Mill City Grows, and Lowell Downtown Neighborhood Association (LDNA). He also volunteers with many groups including the Lowell Parks & Conservation Trust, Lowell National Historical Park, and the Litter Krewe. He's also helped out with many DIY Lowell projects like Points of Light Lantern Celebration, Midsummer Dream Festival, and Restroom Feasibility. We don't just appreciate his community-mindedness, but also his (and his wife Carolyn's) friendliness, dedication, humor, and cheer.
The Lowell Litter Krewe is committed to the creation of volunteer opportunities, staying flexible to meet community needs, and providing the tools necessary to get the job done. From their nomination: Through their networking, open hearts, and generosity, they've removed hundreds of thousands of pounds of trash in the city, including large discarded items in our canal system with their partnership with Lowell Canalwaters Cleaners. They continue to open up their weekend schedules to schools, non-profits, neighborhood groups, and businesses and rally together to clean AND beautify spaces across Lowell, including neglected, overgrown, or forgotten areas. I am in awe of their accomplishments, leadership, and camaraderie!
Congratulations to all the honorable mentions for the Community Transformation Award:
2021
DIY Lowell did not celebrate a Community Chill Night in 2021 due to the COVID-19 Pandemic, therefore, no winners were chosen that year. We look forward to celebrating community in 2022!
2020
Community Transformation Award
Project LEARN won the Community Transformation Award for the 4th Annual Kids Summer BookFest celebration. The fun celebration of early education welcomes hundreds of families. BookFest features performances and poetry, free books, ice cream, crafts, face painting and access to community resources. In partnership with the Lowell Early Childhood Council and support from sponsors, BookFest serves as the kicks off for summer literacy!
It wasn't just one day: The student art project "Jack's Flags" brightened Kerouac Park for the whole summer! This is a great example of how some color and movement transforms an area and helps promote literacy. Bravo!
Volunteer of the Year Award
Artist Cheryl Guerino was chosen as Volunteer of the Year! She spearheaded support for two years of a Midsummer Dream on Merrimack Street, went above and beyond during Points of Light Lantern Celebration, and has helped out behind the scenes on many other efforts. You might recognize her from CREATEa Arts at the Farm Market at Mill No. 5 or other festivals and markets, but she's also a tireless Lowell promoter! Thank you Cheryl!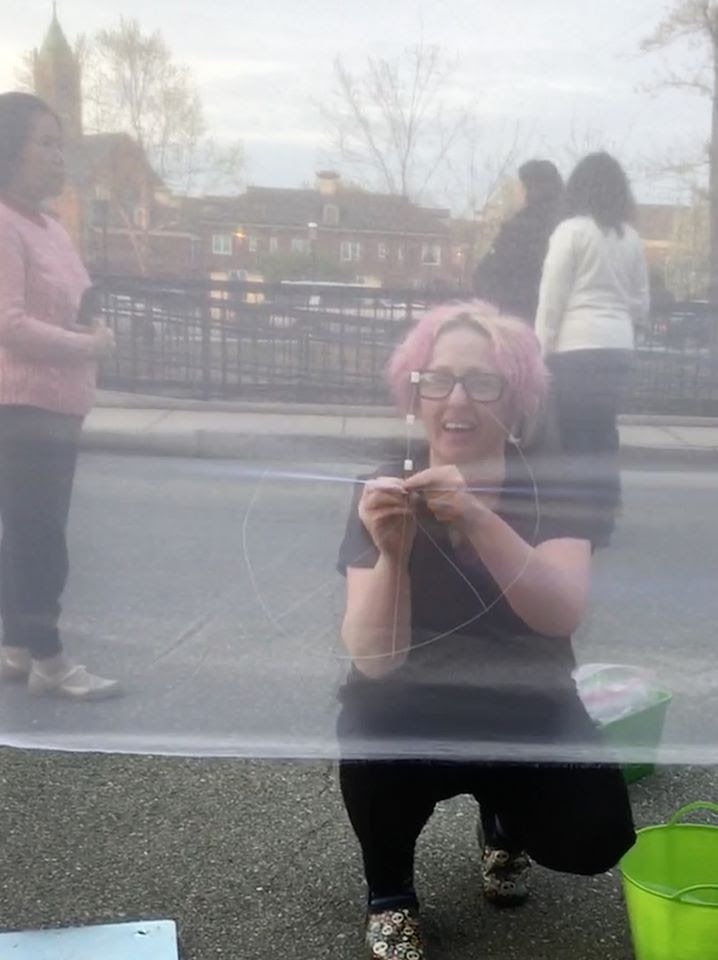 Above photos by Project LEARN and Jennifer Myers
Chili or Stew Winners
The 2020 Chill Night had to be cancelled due to the COVID-19 Pandemic, therefore there were no chili winners that year.
2019
Community Transformation Award
RISE Coalition was selected to receive the 2019 COMMUNITY TRANSFORMATION AWARD for Welcoming Week Lowell! Among many events, including an outdoor film screening, the Welcoming Week planning committee and Enterprise Bank collaborated with youth engaged in organizations around the City to create panels of art to be displayed outside of the Merrimack St. Enterprise branch.
Volunteer of the Year Award
Artist Mary Hart won the 2019 VOLUNTEER OF THE YEAR AWARD for her dedication to DIY Lowell projects such as Downtown Winter Decoration and Midsummer Dream 2 Magical Festival. Mary embodies the DIY spirit even when not working on specific DIY events or projects – as she regularly and creatively promotes art and artists in the Lowell Area.
Chili or Stew Winners
…and last, but not least, Britt Boughner's Christian Hill Chili Pods took home the amateur chili award Congratulations to all!
2018
Community Transformation Award
The Community Transformation Award goes to a community group or nonprofit that went above and beyond transforming or activating an underutilized or overlooked public space, as chosen by the DIY Lowell Advisory Committee. Congratulations to the No Bully Zone for winning!
Volunteer of the Year
Volunteer of the Year goes out to a DIY Lowell volunteer or volunteers who exhibited special excellence in leading or working in a DIY Lowell group. This year, we had two winners:
Chili or Stew Winners
2017
Community Transformation Award
Acre Coming Together Improving our Neighborhood (ACTION)
won the Community Transformation Award for
Decatur Way
, a five-year project of building partnerships and bringing together hundreds of people to transform a forgotten alley that hid crime into a vibrant pedestrian way filled with art and vibrancy. Artists, Poets, and Citizens are continuing to come together to create art that will spill from the walkway into the neighborhood. Check out a
Sun story here
.
Volunteer of the Year Award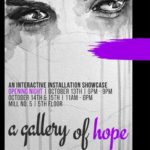 Chhavy Sinuon
won Volunteer of the Year for her dedicated work on the lovely
Domestic Violence Survivor Gallery of Hope
. The interactive galler showcased survivors' stories and art interpretations of their journey. More than 150 visitors found art that they could read, touch, see, feel, and hear in the three days it was active. It started conversations and connected people to resources. Check out a
Lowell Sun report here
and a
photo gallery
here.
Chili or Stew Winners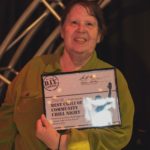 The shocking winner of the chili contest was a 3-way tie between
110 Grill Chelmsford
,
Maxine Farkas
, and
Dave Ouellette
! An instant run-off was held by audience applause with Maxine just barely edging the others out for our coveted certificate.