DIY Lowell wants to wish everyone an amazing 2021! There are so many things we missed last year–being able to gather and plan in person, all our community festivals and events like Points of Light and Folk Festival, and being able to meet with friends at restaurants and pubs. However, one thing we didn't miss was Lowell's amazing support!
Thanks to the community, we: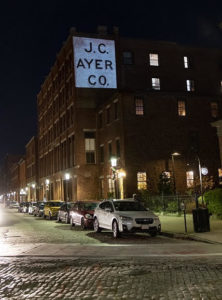 Want to help us out?
Check out the Ghost Signs Alive fundraiser on the Lowell Virtual Market – the team is selling limited edition soap inspired by Ayer's Cherry Pectoral and hand-crafted by Red Antler Apothecary and five distinctive postcards designed by the team–from a single postcard for $1.50 for a $15 for an entire gift basket.
Consider joining the Advisory Committee (link pdf) by emailing info@diylowell.org with interest.
Sign up for our mailing list to stay informed of all our activities and opportunities.
Thank you!
The Great Lowell Café Crawl!
Note: You may still donate, but the Great Lowell Re-Opening Café Crawl is over–stay tuned for the winners!

Want to support local business and DIY Lowell at once? Join us on the Great Lowell Re-Opening Café Crawl!
For a $20 donation, you'll receive a Café Crawl Card and two special thank-you stickers in the mail. When you present your card to a participating café, they will check off their name on the card and give you a special (cafés and specials listed below), limit one special per card per café.
Customers are limited to one special per café per card.
Share a photo on Twitter or Instagram at each café you visit tagging @diylowell and #diylowellcafecrawl to be entered into a weekly raffle for gift cards from participating cafés and more pulled each Saturday in November.
Email a photo of your card with as many punches you can get before Nov. 30, because each punch will count as a raffle entry for you in our FINAL RAFFLE on Dec. 1.
If your card is filled up with punches from every café, you're entered into the grand prize: naming a drink for a week at Brew'd Awakening!
What are you waiting for? Donate with major credit cards or with a Paypal account by clicking the button below (donation is made secure via Paypal's system but you can use any payment method)–make sure to share your current mailing address in so we can mail you the stickers and card! You may also pay by check with the instructions here. Don't forget to email your mailing address to us at info@diylowell.org if you send a check.
Participating Restaurants
| | | | |
| --- | --- | --- | --- |
| | Brew'd Awakening | 61 Market St., Lowell, MA 01852 | $2 off a purchase of $5 or more |
| | Coffee and Cotton | 250 Jackson St., 4th floor, Lowell, MA 01852 | One free medium drip coffee (hot or iced) with any food purchase |
| | Gallery Z | 167 Market St., Lowell, MA 01853 | Coming soon! |
| | Little Delights Bakery | 132 Merrimack St., Lowell, MA 01852 | Free Cupcake with purchase |
| | Panela Restaurant | 7 Hanover St., Lowell, MA 01850 | Free hot Colombian chocolate, in-store or to-go, when you order any breakfast item |
| | Purple Carrot Bread Co. | 107 Merrimack St., Lowell, MA 01852 | Free medium coffee hot or iced with purchase of $3 or more |
| | Rosie's Café | 155 Middlesex St., #1B, Lowell, MA 01852 | Medium coffee + muffin for $5.00 (save 50 cents) |
| | The Worthen House Café | 141 Worthen St., Lowell, MA 01852 | 50% off one appetizer |
| | Wham's Café | 737 Lakeview Ave, Lowell, MA 01850 | Free Kahawa Coffee or Soda Can with each order or $1.00 off a 16oz or 24oz Smoothie or Frappe |
Special thanks to all participating restaurants and to the DIY Lowell Advisory Committee for organization and support.
Helping Centralville Connect by Improving the River Path


We're excited to announce a new community project! THE RIVER PATH project will make small improvements to identify and brighten up the riverside path between Bridge Street and Aiken Street. We're considering signage, art, plantings in the park, and more.
We kicked off the project with a community cleanup of Blue Star Park (3 First Street, also known as Ferry Landing Park) on October 10, 2020. You can still help! Take a survey to tell us what to name the path, how to improve the path, and also to weigh in on our partner City of Lowell's project to create "Healthy Trails" in Centralville.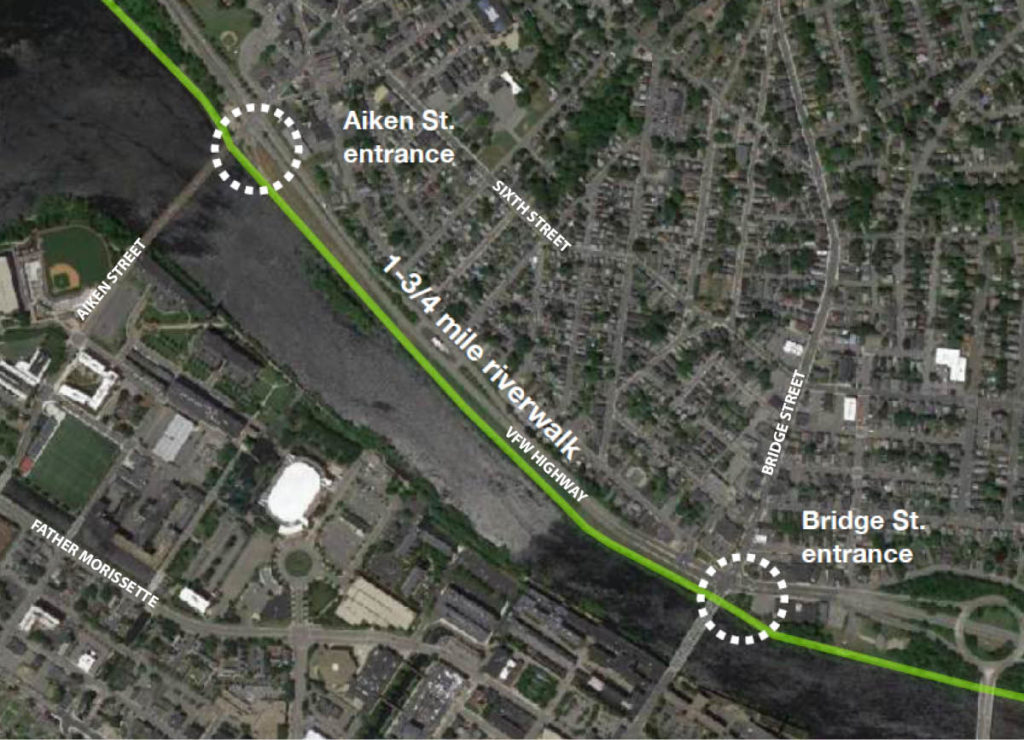 Email info@diylowell.org with any questions or comments.
THE RIVER PATH project is funded by the Solomon Foundation's Streets for Recovery program and managed by DIY Lowell.
HEALTHY WALKING TRAILS is funded by Blue Cross Blue Shield of Massachusetts and managed by the City of Lowell.