New Call for Art – Sign Panels!
DIY Lowell is seeking art for pylon signs at the trailheads of the Centralville River Path! Artists of all types are encouraged to apply. The selected work will be printed on three panels that will be installed on a temporary sign and, eventually, a permanent sign. The panels will wrap around the sign as in the illustrations (the area colored orange is the area for the artwork).
Please reference the graphic below for the full call for art or download a PDF of the call for art here.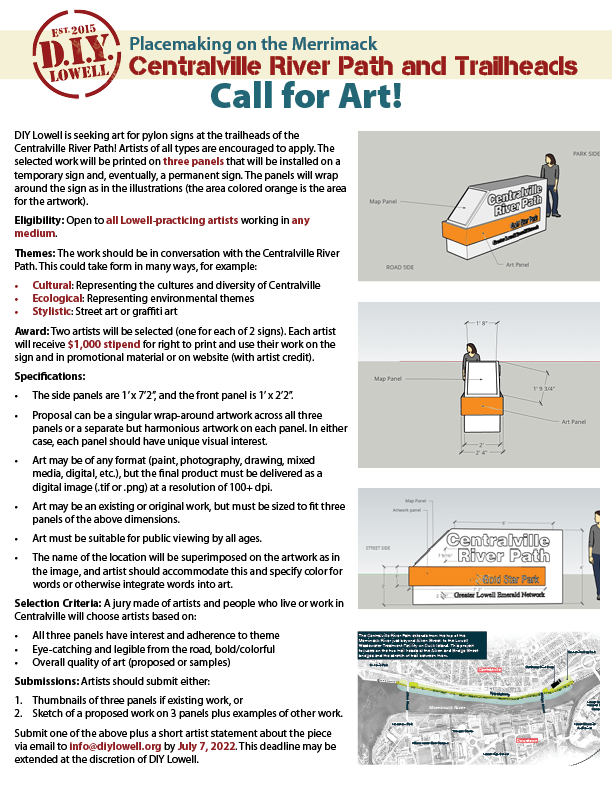 Executive Director Search
DIY Lowell wishes to share an exciting opportunity: we are hiring for a new Executive Director Position!
The Executive Director will be the Chief Executive Officer of DIY Lowell. This is a new position with the opportunity to help our small organization grow and become sustainable. The Executive Director will report to the Advisory Committee, a 13-member volunteer board. The Executive Director will assume leadership of the organization and will focus on program facilitation, fundraising and finance, outreach, and strategic planning.
This position is ideal for candidates who wish to become immersed in the City of Lowell's thriving arts and multicultural community. Candidates interested in community development, nonprofit administration, and/or all-ages civic engagement education are especially encouraged to apply. This position is partially grant-funded, and continued employment beyond six months will depend on continued fundraising.
To apply, please review the full job description (PDF) and submit a resume and cover letter to info@diylowell.org. Applications must include both resume and cover letter.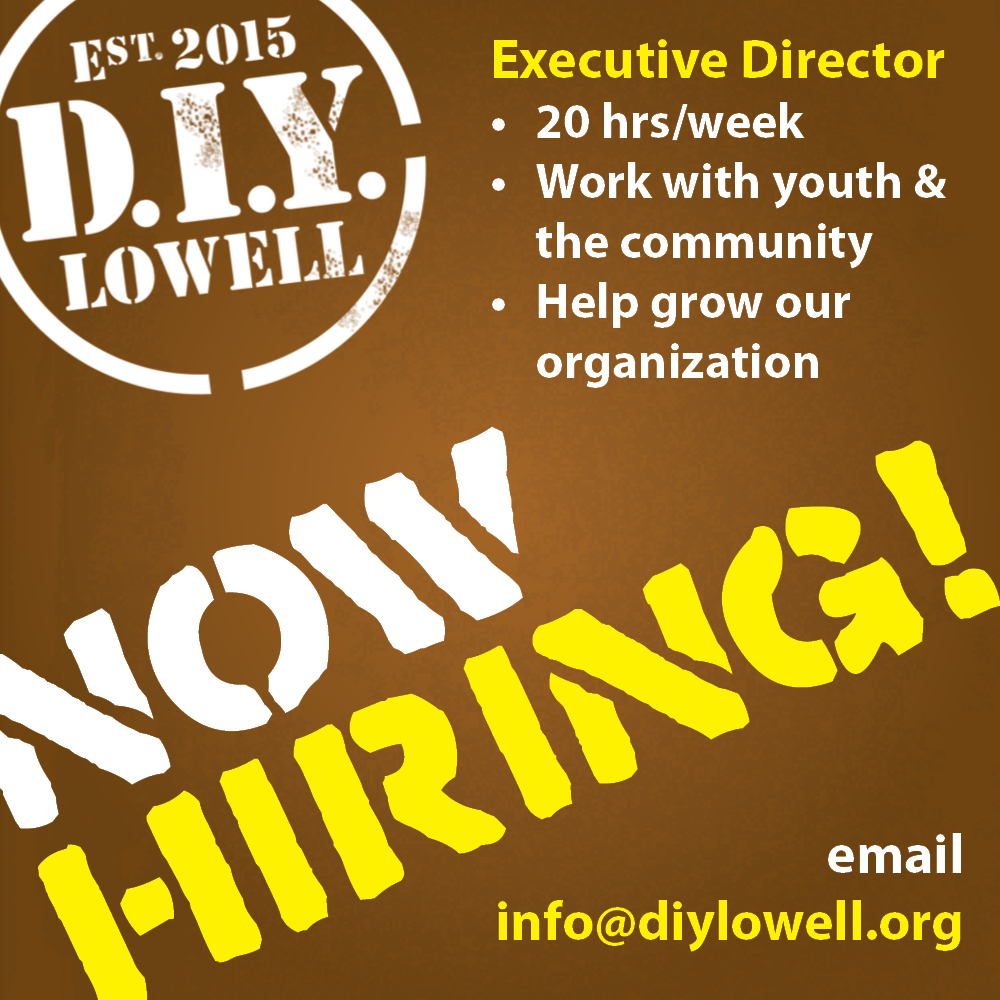 2023 Community Chill Night
The 2023 Community Chill Night is DIY Lowell's fifth annual chili and stew cook-off event! Experience music, games, community awards, and a DIY "Chilly" Dessert fun for everyone! Our goal is to build community in Lowell by bringing together young people and elders, downtown and neighborhoods, townies and newcomers. This annual fundraiser celebrates the projects and events that have activated our underused spaces, brought diverse populations together, and made Lowell better. Check out the Community Chill Night page to donate/RSVP, nominate an individual or group as Volunteer of the Year and for the Community Transformation Award, register a chili/stew contest entry, volunteer, and more!