DIY Lowell stands in solidarity–and is listening
Dear friends and family,
During the past ten days, DIY Lowell has witnessed and listened to the Black members of our community and the other diverse voices calling for reform in cities across the United States, including our own.
DIY Lowell's utmost values are diversity, inclusivity, and community involvement. Our mission includes bringing people of different backgrounds together to learn from one another on how to make meaningful change in our community. We focus on public spaces, supporting projects that are inclusive, non-discriminatory, and provide a forum for diverse people to enjoy Lowell on equitable ground.
As we've discussed this mission in light of the national—and even more importantly, the local—conversation, we have come to agree that we must focus on promoting an idea: community spaces must be actively anti-racist. People of all backgrounds must feel safe, welcome, respected, and free from harassment. Our community must ensure this regardless of their race, their circumstances, or their appearance. We wish to let everyone know: we support the Black Lives Matter movement and the nationwide protests in the wake of the death of George Floyd at the hands of police. We add our voices to the urgent calls for reform.
DIY Lowell is committed to actively invite and include everyone. Over the last year, we have sought grants to reach out to more diverse members of our community, through meeting them where they're at, translating and interpreting, and holding special focus groups. We'll redouble our efforts and prioritize this work.
Just as importantly, we'll continue listening and urge anyone who feels so moved to contact us and let us know how we're doing. We don't always hit the mark, but we want to know if we're aiming in the right place. Please tell us.
A community leader friend once told us that Do-it-Yourself Lowell would be more accurately called "Do-it-Together Lowell." We believe in the power of community members learning from one another, gaining the skills and connections to claim their Right to the City. We believe that not only must our public spaces be equitable, but also that all aspects of our city must be equitable. We look forward to playing a role in achieving that equity for all.
Thank you,
– The DIY Lowell Team
DIY Lowell Program Director Job Opportunity
DIY Lowell has an exciting job opportunity! We're looking for someone special to take over leadership of our program in 2020 and beyond. We're seeking a Program Director, a 12 hour/week position ideal for anyone wishing to become immersed in the City of Lowell's thriving arts and multicultural community. We need someone ready to work with diverse folks, including young people (ages 12-21). We encourage people interested in community development, nonprofit administration, and/or all-ages civic engagement education to apply.
The DIY Lowell Program Director will be the sole permanent paid position in DIY Lowell and will focus on marketing and fundraising, along with program facilitation and outreach.
Please click here for the full job description and information on how to apply (pdf). Application period closes on May 29, 2020.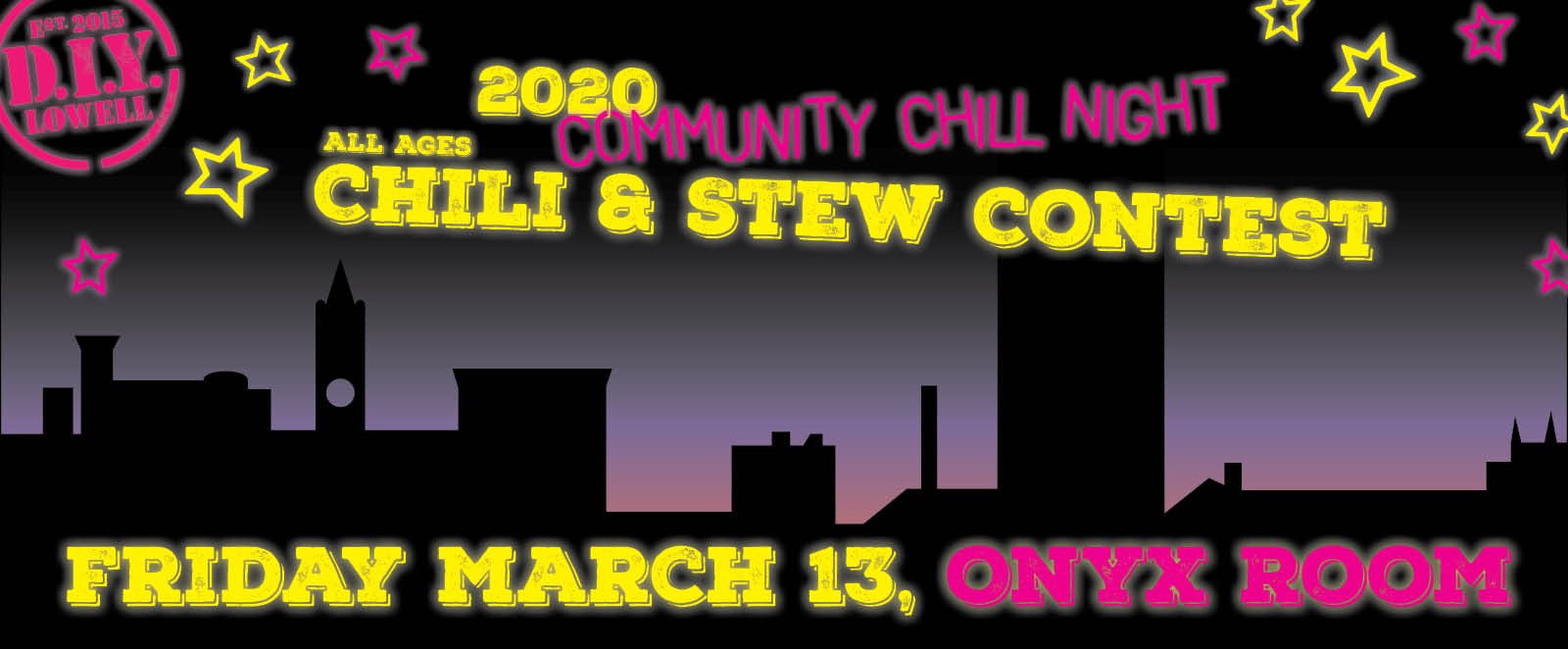 Community Chill, March 13 6:30 pm at the Onyx Room (Western Ave Studios)
We're inviting you to our fourth annual chili and stew contest with music, games, community awards, and a DIY "Chilly" Dessert. Our goal is to build community in Lowell by bringing together young people and elders, downtown and neighborhoods, townies and newcomers. This annual fundraiser celebrates the projects and events that have activated our underused spaces, brought diverse populations together, and made Lowell better.
$5 Suggested Donation in Advance/$10 at the Door - Donate and RSVP in advance at https://diylowell.brownpapertickets.com
Spread the word at https://www.facebook.com/events/500819843906859/
...and check out previous award and contest winners here!
We Need Your Help!
We need your help in the following ways. Nominations due February 15 and chili and stew entries due February 25!
Award Nominations * Chili Entries * Sponsors * Volunteers
---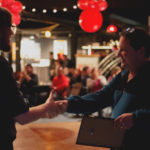 Nominate a Community Member or Group
We need nominations for people and groups you think have made a difference in making Lowell's public spaces more vibrant, exciting, kid-friendly, colorful, walkable, or better! All nominees will get a mention in our award ceremony, and winners will get a $20 giftcard for individual and 10 volunteer hours for a group!
---
Submit a Chili or Stew Entry
This year, we're hoping for a mix of cultural and ethnic stews with American chilis - anything tasty can compete! We are looking for all kinds: traditional and totally off the wall, meat or vegetable based—you name it. No cost to enter; categories for restaurants and individuals.
---
Get a VIP Table or Become a Sponsor
We honor all our 2020 Meteor Shower and Comet sponsors at this special event! Special perks for being a sponsor include VIP treatment for your organization, a banner at the event, and promotion on social media and on our mailing list.
Even if you aren't from an organization, a donation would be a big help! After a year of Strategic Planning with our Advisory Committee, we're kicking off a new era of DIY Lowell and raising funds to hire our first-ever part time Program Director. Donations big and small will help us reach our goal.
Check out our sponsor information (pdf) and email info@diylowell.org with expressions of interest.
---
Volunteer to Help Out
We need help setting up activities, counting chili ballots, scooping ice cream, and more! Please consider helping us out on March 1. Click on the button for a form with all volunteer opportunities.
*Thanks to Marte Media for the photos of our '17 event!