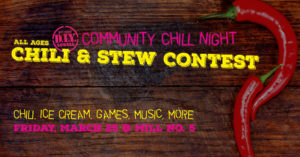 The 2022 Community Chill Night is DIY Lowell's fourth annual chili and stew cook-off event! After two COVID years off, we're back with music, games, community awards, and a DIY "Chilly" Dessert! Our goal is to build community in Lowell by bringing together young people and elders, downtown and neighborhoods, townies and newcomers. This annual fundraiser celebrates the projects and events that have activated our underused spaces, brought diverse populations together, and made Lowell better. Check out the Community Chill Night page to donate/RSVP, nominate an individual or group as Volunteer of the Year and for the Community Transformation Award, register a chili/stew contest entry, volunteer, and more!
2021 Community Idea Summit
Get ready for the 2021 Community Idea Summit! RSVP via Facebook here, and if you aren't ready for in-person, Register via Zoom here for the hybrid option.
We'll kick off the top projects chosen with over 70 votes:
Along with a Wildcard Idea chosen at the summit and the Multilingual Poetry Trail, the result of DIY Kerouac!
We help people of all backgrounds and ages build community, learn civic skills, and create fun projects. This summer, we're asking you to give us five! How do you do that? First, donate $5 (or any amount you'd like) by clicking on the button below. Then, give us a virtual high-five on Facebook, Twitter, or Instagram by telling us why you donated with a short selfie video or a couple lines of text and the above graphic. Why is building community important during this time?
Finally, pass the high-five to a few friends by tagging them. Don't forget to use #GiveUsFiveDIY and tag @diylowell and include the link to https://diylowell.org – Help us reach our $2,000 goal!
Or use the following form to set up a monthly, recurring donation via Paypal: