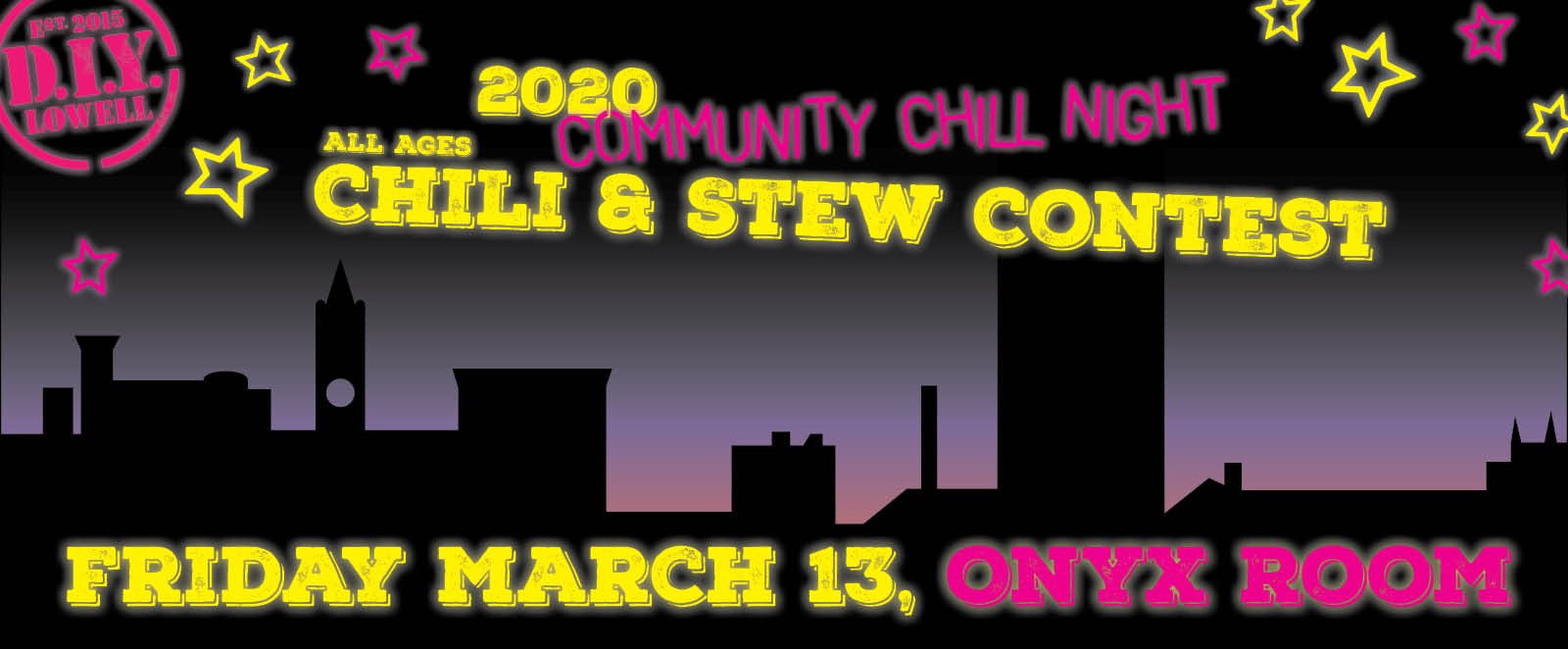 Community Chill, March 13 6:30 pm at the Onyx Room (Western Ave Studios)
We're inviting you to our fourth annual chili and stew contest with music, games, community awards, and a DIY "Chilly" Dessert. Our goal is to build community in Lowell by bringing together young people and elders, downtown and neighborhoods, townies and newcomers. This annual fundraiser celebrates the projects and events that have activated our underused spaces, brought diverse populations together, and made Lowell better.
$5 Suggested Donation in Advance/$10 at the Door - Donate and RSVP in advance at https://diylowell.brownpapertickets.com
Spread the word at https://www.facebook.com/events/500819843906859/
...and check out previous award and contest winners here!
We Need Your Help!
We need your help in the following ways. Nominations due February 15 and chili and stew entries due February 25!
Award Nominations * Chili Entries * Sponsors * Volunteers
---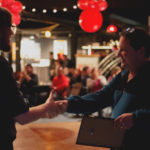 Nominate a Community Member or Group
We need nominations for people and groups you think have made a difference in making Lowell's public spaces more vibrant, exciting, kid-friendly, colorful, walkable, or better! All nominees will get a mention in our award ceremony, and winners will get a $20 giftcard for individual and 10 volunteer hours for a group!
---
Submit a Chili or Stew Entry
This year, we're hoping for a mix of cultural and ethnic stews with American chilis - anything tasty can compete! We are looking for all kinds: traditional and totally off the wall, meat or vegetable based—you name it. No cost to enter; categories for restaurants and individuals.
---
Get a VIP Table or Become a Sponsor
We honor all our 2020 Meteor Shower and Comet sponsors at this special event! Special perks for being a sponsor include VIP treatment for your organization, a banner at the event, and promotion on social media and on our mailing list.
Even if you aren't from an organization, a donation would be a big help! After a year of Strategic Planning with our Advisory Committee, we're kicking off a new era of DIY Lowell and raising funds to hire our first-ever part time Program Director. Donations big and small will help us reach our goal.
Check out our sponsor information (pdf) and email info@diylowell.org with expressions of interest.
---
Volunteer to Help Out
We need help setting up activities, counting chili ballots, scooping ice cream, and more! Please consider helping us out on March 1. Click on the button for a form with all volunteer opportunities.
*Thanks to Marte Media for the photos of our '17 event!
A DIY Lowell Appeal In Verse
We wanted to share this lovely appeal from our Program Director, Emily Ferrara:
As the Last Leaves Fall
Squirrels gather nuts, then bolt up trunks.
Skunks bulk up at night on fallen apples.
Monarchs skirt the milkweed-silken fields.
Birds take wing to fairer ground, warm climes.
Here in Lowell, we're hunkering down
For the next New England winter
Of snow emergencies, slick sidewalks
Of holiday blues and cheer.
As light declines and Thanksgiving nears,
Let the season's windfall lift our hearts.
Let's count our blessings (and our funds),
invest today in the promise of our much-loved city.
◊ ◊ ◊ ◊ ◊ ◊ ◊ ◊ ◊ ◊ ◊ ◊ ◊ ◊ ◊ ◊ ◊ ◊ ◊ ◊ ◊
Dear Readers,
Although I don't often write "occasional poems", I decided to give it a try for this special DIY Lowell occasion — our annual fund appeal.
As many of you know, not quite 6 months ago, I became the first program director of the wonderful grassroots organization known as DIY Lowell. Building on nearly 5 years of volunteer-driven success, I have been lucky to collaborate with the founders, advisory board, community of volunteers and supporters to implement the fourth annual Community Idea Summit program and launch four new projects for the 2019-2020 cycle. At the same time, we've been working to grow the organization's capacity, and to expand our outreach efforts to promote broader and more diverse participation.
As giving Tuesday approaches, please consider making a donation to help DIY Lowell continue its work to empower residents to dream up and effect positive change in Lowell. Thank you!
(photo by Emily Ferrara, cross-posted from https://emilyferrara.wordpress.com/2019/11/22/a-diy-lowell-appeal-in-verse/)
We had an amazing turnout at our fourth annual Community Idea Summit with more than 40 people ready to volunteer their time and energy to kick off community projects. We hope we'll see great success by summer 2020 for all four! You can help by attending their first meeting or, if that time doesn't work for you, emailing info@diylowell.org with thoughts or interest.