Temporary, Part-Time Summer Positions Open: Do-it-Yourself Lowell Street Team Member
(Click here for PDF Job Description, 162 kb)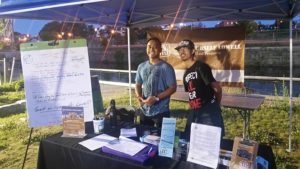 Do-it-Yourself Lowell is a grassroots organization that helps community members learn how to make small projects and events happen together. Over the summer, we ask people in Lowell for community project ideas. Next, anyone who pledges to help out can vote for their favorites. The winning ideas are discussed at a summit in late July. After the summit, DIY Lowell helps community member teams make the projects happen.
Lowell is a big place, and we need help reaching out to Lowell's diverse community to get people's ideas and get them involved in the project. We know there are great ideas in every part of the city, we want to get as many folks involved as possible, and we want to get people from different neighborhoods and backgrounds working together. As a Street Team member, you will work as a team, learning and creating different marketing methods to reach out to the community and ask them to participate. Open to students and adults.
Responsibilities
Job is 5 hours/week from August 2 to September 30. Applicants must be available at least 1 weeknight and 1 weekend day a week.
Team Orientation and Meetings: Attend a short orientation and bi-weekly meetings to discuss outreach strategies and tasks
Community Tabling: As a team, reach out to events to reserve a table, manage a DIY Lowell table at community events, speaking to strangers with confidence, providing information about DIY Lowell, listening to their ideas and questions, and encouraging them to participate in DIY Lowell
Small Group Engagement: Contact groups such as neighborhood groups, community organizations, and churches via email and phone to set up meetings and speak to groups
Social Media: Maintain DIY Lowell's Facebook and Twitter accounts, sharing submitted ideas, photos, and project examples from Lowell and other towns
Other Outreach: Work as a team to manage additional marketing as assigned, including posting flyers around town, taking pictures, contacting media, and other creative strategies
Logistic Support: Provide logistical support for summit event, including help with planning and setup
Qualifications
Ability to confidently interact with a wide variety of people in Lowell across a spectrum of backgrounds and ages-those with bilingual abilities are strongly encouraged to apply
Comfort with public speaking to both small groups and one-on-one
Knowledge and skill using a variety of social media outlets
Availability and willingness to travel to events in Lowell on evenings and weekends
Enthusiasm and interest in DIY Lowell's goals
Responsibility, self-motivation, and organization
Willingness to encourage your personal network to participate in DIY Lowell a plus (this could include your family, neighborhood, school friends, or colleagues)
Benefits
$14/hour stipend
Excellent resume builder for community engagement, marketing,and event planning
Work collaboratively in a fun environment with another Street Team members, DIY Lowell founders, and others
Good opportunity to network within the Lowell community and meet people from many organizations and professional groups
Sick time accrued at 1 hour/30 hours worked
Please submit a resume and cover letter to info@diylowell.org. Deadline: July 26, 2021, 5:00pm. Applications must include both resume and cover letter.
DIY Lowell is a grassroots group dedicated to helping community members make small-scale projects and events happen together. It connects people with ideas to funding, technical assistance, and most importantly to one another. Coalition for a Better Acre (CBA) is DIY Lowell's fiscal agent. CBA is a Lowell-based 501(c)(3) nonprofit agency. DIY Lowell is an equal opportunity employer.
DIY Lowell wants to wish everyone an amazing 2021! There are so many things we missed last year–being able to gather and plan in person, all our community festivals and events like Points of Light and Folk Festival, and being able to meet with friends at restaurants and pubs. However, one thing we didn't miss was Lowell's amazing support!
Thanks to the community, we: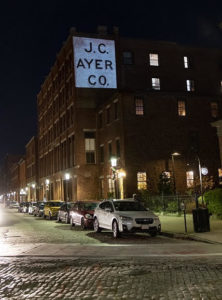 Want to help us out?
Check out the Ghost Signs Alive fundraiser on the Lowell Virtual Market – the team is selling limited edition soap inspired by Ayer's Cherry Pectoral and hand-crafted by Red Antler Apothecary and five distinctive postcards designed by the team–from a single postcard for $1.50 for a $15 for an entire gift basket.
Consider joining the Advisory Committee (link pdf) by emailing info@diylowell.org with interest.
Sign up for our mailing list to stay informed of all our activities and opportunities.
Thank you!
The Great Lowell Café Crawl!
Note: You may still donate, but the Great Lowell Re-Opening Café Crawl is over–stay tuned for the winners!

Want to support local business and DIY Lowell at once? Join us on the Great Lowell Re-Opening Café Crawl!
For a $20 donation, you'll receive a Café Crawl Card and two special thank-you stickers in the mail. When you present your card to a participating café, they will check off their name on the card and give you a special (cafés and specials listed below), limit one special per card per café.
Customers are limited to one special per café per card.
Share a photo on Twitter or Instagram at each café you visit tagging @diylowell and #diylowellcafecrawl to be entered into a weekly raffle for gift cards from participating cafés and more pulled each Saturday in November.
Email a photo of your card with as many punches you can get before Nov. 30, because each punch will count as a raffle entry for you in our FINAL RAFFLE on Dec. 1.
If your card is filled up with punches from every café, you're entered into the grand prize: naming a drink for a week at Brew'd Awakening!
What are you waiting for? Donate with major credit cards or with a Paypal account by clicking the button below (donation is made secure via Paypal's system but you can use any payment method)–make sure to share your current mailing address in so we can mail you the stickers and card! You may also pay by check with the instructions here. Don't forget to email your mailing address to us at info@diylowell.org if you send a check.
Participating Restaurants
| | | | |
| --- | --- | --- | --- |
| | Brew'd Awakening | 61 Market St., Lowell, MA 01852 | $2 off a purchase of $5 or more |
| | Coffee and Cotton | 250 Jackson St., 4th floor, Lowell, MA 01852 | One free medium drip coffee (hot or iced) with any food purchase |
| | Gallery Z | 167 Market St., Lowell, MA 01853 | Coming soon! |
| | Little Delights Bakery | 132 Merrimack St., Lowell, MA 01852 | Free Cupcake with purchase |
| | Panela Restaurant | 7 Hanover St., Lowell, MA 01850 | Free hot Colombian chocolate, in-store or to-go, when you order any breakfast item |
| | Purple Carrot Bread Co. | 107 Merrimack St., Lowell, MA 01852 | Free medium coffee hot or iced with purchase of $3 or more |
| | Rosie's Café | 155 Middlesex St., #1B, Lowell, MA 01852 | Medium coffee + muffin for $5.00 (save 50 cents) |
| | The Worthen House Café | 141 Worthen St., Lowell, MA 01852 | 50% off one appetizer |
| | Wham's Café | 737 Lakeview Ave, Lowell, MA 01850 | Free Kahawa Coffee or Soda Can with each order or $1.00 off a 16oz or 24oz Smoothie or Frappe |
Special thanks to all participating restaurants and to the DIY Lowell Advisory Committee for organization and support.