Helping Centralville Connect by Improving the River Path

The Centralville River Path project is a multi-year initiative to improve the riverside path in Centralville between Bridge Street and Aiken Street–and its entrances at Gold Star Park and near the Ouellette Bridge. Over 2021, DIY Lowell advanced several community outreach efforts, including working with "Stitching Urban Fabric" for pro-bono landscape design services, to envision a welcoming, safe, and fun pedestrian and bicycle path. The vision was phased, with the intent that DIY Lowell would undertake short-term pop-up improvements in 2022, and larger interventions would start in 2023.
Community engagement has been an integral part of the process and a driving force behind the design. Initial input gathered from an online survey was used to develop
three different design concepts for the path and trailheads. The community then provided feedback on those concepts at two pop-up public meetings and a second online survey. The concept was vetted at a final public meeting in Spring 2022. The result was a captivating vision of a clean, safe path with bold entrance signage, signature pergolas, ecologically friendly pollinator gardens, selected invasive removal, and ADA-accessibility. You can view the entire concept document–including short-term and long-term plans here. (PDF, 17 MB)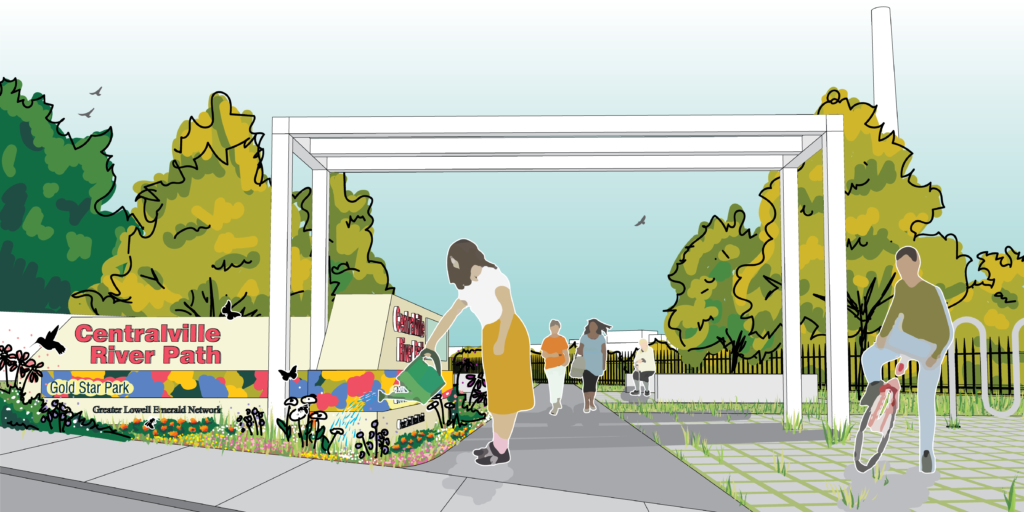 DIY Lowell is now raising funds toward a $20,000 goal and a $40,000 stretch goal for the quick-build demonstration improvements outlined in the document. Use the button below to donate to the River Path project, or email info@diylowell.org if you know of a grant or sponsorship opportunity!
It won't end there! We are proud to work with Lowell Litter Krewe, who will lead the creation of permanent improvements over 2023 with funding secured by the State Delegation. They're going to work hand-in-hand with us and the community that uses this amazing resource making the vision a reality!
You can still help! Join our mailing list if you want to know about future clean ups and other opportunities. Please email us at info@diylowell.org if you want to be involved in any other way.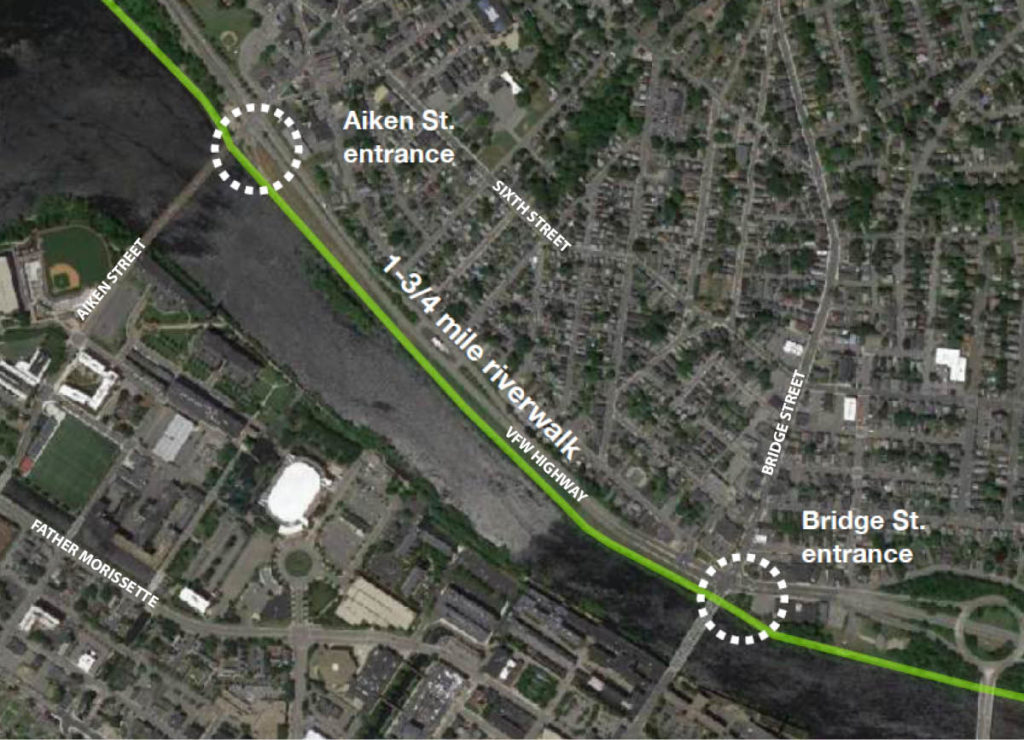 Email info@diylowell.org with any questions or comments.
THE RIVER PATH project facilitation is funded by the Solomon Foundation's Streets for Recovery program.

DIY Lowell stands in solidarity–and is listening
Dear friends and family,
During the past ten days, DIY Lowell has witnessed and listened to the Black members of our community and the other diverse voices calling for reform in cities across the United States, including our own.
DIY Lowell's utmost values are diversity, inclusivity, and community involvement. Our mission includes bringing people of different backgrounds together to learn from one another on how to make meaningful change in our community. We focus on public spaces, supporting projects that are inclusive, non-discriminatory, and provide a forum for diverse people to enjoy Lowell on equitable ground.
As we've discussed this mission in light of the national—and even more importantly, the local—conversation, we have come to agree that we must focus on promoting an idea: community spaces must be actively anti-racist. People of all backgrounds must feel safe, welcome, respected, and free from harassment. Our community must ensure this regardless of their race, their circumstances, or their appearance. We wish to let everyone know: we support the Black Lives Matter movement and the nationwide protests in the wake of the death of George Floyd at the hands of police. We add our voices to the urgent calls for reform.
DIY Lowell is committed to actively invite and include everyone. Over the last year, we have sought grants to reach out to more diverse members of our community, through meeting them where they're at, translating and interpreting, and holding special focus groups. We'll redouble our efforts and prioritize this work.
Just as importantly, we'll continue listening and urge anyone who feels so moved to contact us and let us know how we're doing. We don't always hit the mark, but we want to know if we're aiming in the right place. Please tell us.
A community leader friend once told us that Do-it-Yourself Lowell would be more accurately called "Do-it-Together Lowell." We believe in the power of community members learning from one another, gaining the skills and connections to claim their Right to the City. We believe that not only must our public spaces be equitable, but also that all aspects of our city must be equitable. We look forward to playing a role in achieving that equity for all.
Thank you,
– The DIY Lowell Team
DIY Lowell Program Director Job Opportunity
DIY Lowell has an exciting job opportunity! We're looking for someone special to take over leadership of our program in 2020 and beyond. We're seeking a Program Director, a 12 hour/week position ideal for anyone wishing to become immersed in the City of Lowell's thriving arts and multicultural community. We need someone ready to work with diverse folks, including young people (ages 12-21). We encourage people interested in community development, nonprofit administration, and/or all-ages civic engagement education to apply.
The DIY Lowell Program Director will be the sole permanent paid position in DIY Lowell and will focus on marketing and fundraising, along with program facilitation and outreach.
Please click here for the full job description and information on how to apply (pdf). Application period closes on May 29, 2020.