Community Chill Night was an amazing success with an estimated 100 participants, ten chilis, six projects featured in a community video, Do-it-Yourself nametags, and a "Chilly" DIY Dessert: an Ice Cream Sundae Bar! The remarkable evening was capped by a special performance by Lowell's one and only Party Band.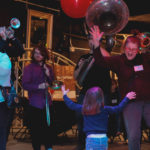 For our image gallery, click here!
We would like to thank the following groups and people:
Co-Sponsors
Chili Participants
Cafe UTEC's Vegetarian Black Bean
Maxine Farkas's Chili Verde with Pork
Lowell Film Collaborative's Vegan Film Lover's Special
The Party Band's Temptation
110 Grill Chelmsford's Chili
Jennifer Myers's Gobble Gobble Great Turkey Chili
Purple Carrot Bread Co. Spicy Black Bean and Jalapeño Chili
Dave Oullette's Daveyo Chili
Chas's "What's in the Fridge"
Volunteers
Amrith Fernandes Prabhu
Christine Bruins
Russell Pandres
Henry Marte
Rithy
Carolyn delehanty
Chhavy and Vytha
Claudia DeFuria
Allyson
…and the DIY Lowell Steering Committee!