Last Friday, September 16, the Park(ing) Day Parklet group and community partners transformed three parking spaces into a mini-park, changing the meaning of parking space, if just for a day! The theme was "Words Matter," and over 300 people came to drop off or pick up books, read, play Jenga, take downtown selfies, participate in Lowell National Historical Park's story-sharing station, and otherwise have fun.
The group and DIY Lowell hope this starts a conversation about how we can creatively use space downtown. The mission of PARK(ing) Day is to demonstrate the need for urban open space, engage in community conversations around how and where these spaces are created, and improve the quality of human experiences on a block level… at least until the meter runs out! In 2016, 160 cities across the world participated in #parkingday
The group is already discussing next year, as several business owners expressed interest in having Park(ing) Day parklets of their own. At least for a single day, it seemed that nobody missed the parking spaces: Christine Bruins, a group member, said, "It's great, you can see people begin to smile halfway down the block!"
The group wants to thank the following groups and individuals:
Permission – City of Lowell Parking and Garages Department (Nicholas Navin, Director)
Trees – Lowell Park & Conservation Trust, Inc (Jane Calvin, Executive Director) and City of Lowell Public Works Department (Steve Benoit)
Donated Books – Pollard Memorial Library (Sean Thibodeau, Coordinator of Community Planning); Friends of Pollard Memorial Library; Loom Press Web (Paul Marion); many private individuals
Logistical Support – Humanity Style Boutique (Ani Vong, Owner)
Fencing Material – Lowell National Historical Park (Michael Fernandes, Grounds Supervisor)
Benches and carpentry – (Lowell Makes, Jon Goplerud – benches and Mark Hunter- carpentry)
Cupcakes – Little Delights Bakery (Lee Taing, Owner)
General support, press, and promotion – DIY Lowell; Lowell National Historical Park
Photos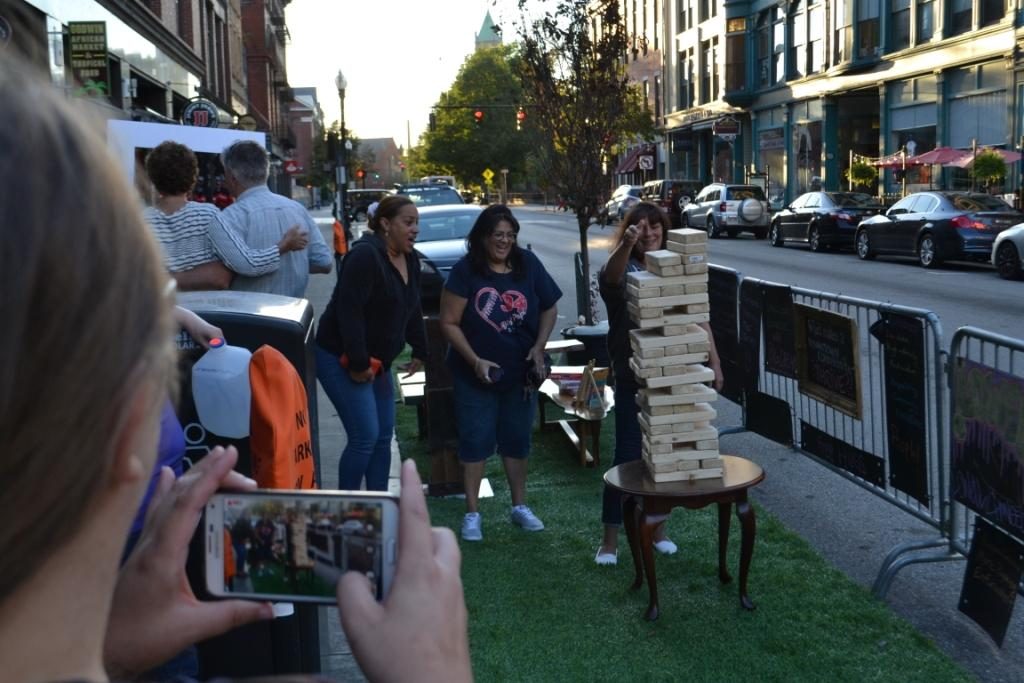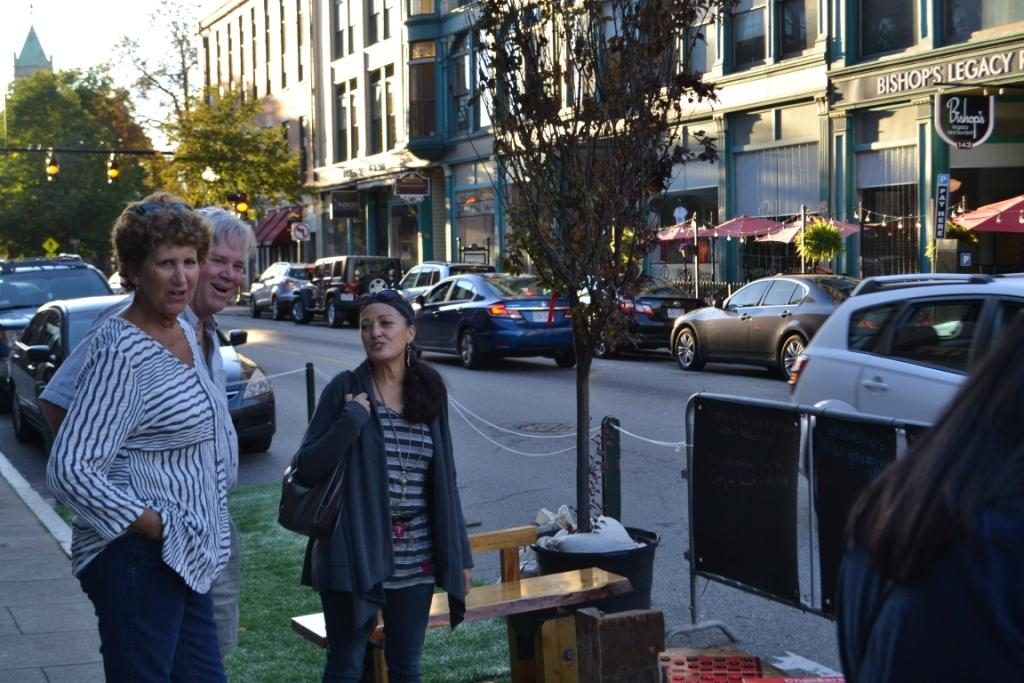 The group included Christine Bruins, Katherine DuBose Fuerst, Brian Meade, Corey Sciuto, and Katie Stoll.