Lowell Artistic Bike Racks
A project co-sponsored by DIY Lowell and the Lowell Bike Coalition
---
Call for Artists * Application Form * Design Requirements (pdf) * GoFundMe * Contact
---
DIY Lowell and the Lowell Bike Coalition, a volunteer organization dedicated to improving bicycling infrastructure in Lowell, are co-sponsoring an Artistic Bike Rack Competition with the goal of supporting and encouraging bicycling in Lowell.
Traveling by bicycle is a growing transportation alternative and by making Lowell a bicycle-friendly destination, we can encourage cyclists to visit our city. Providing a welcoming place for visitors to lock up their bikes, will allow them to stay, eat, and shop. They will discover what we already know: "There's a lot to like about Lowell."
This project will provide a creative solution to the need for secure bike parking that also functions as an artistic addition to the City's historic character and charm. The bike racks will preferentially use upcycled materials and found objects from Lowell's historic mill buildings, and the designs will reflect and reference Lowell's rich history.
The initial goal is to install two artistic bike racks during the spring of 2016: One at the Mogan Cultural Center, near Boarding House Park on French St. and the other at Mill No. 5 on Jackson St.
Special Thanks to our Project Partners:
DIY Lowell, Greater Lowell Technical High School, Lowell National Historical Park, and Greater Merrimack Valley Convention and Visitors Bureau.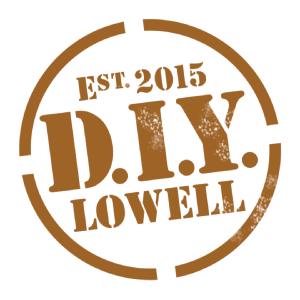 This program is supported in part by a grant from the Lowell Cultural Council, a local agency which is supported by the Massachusetts Cultural Council, a state agency.
We would also like to thank all of our individual donors who have contributed to the success of this project. Visit the GoFundMe page to see the list of donors, or to make a donation.
---