The former site of the Lew Family dry cleaning business is one block across Merrimack Street toward Boott Mills. The Lew family, children and grandchildren of Barzillai and Dinah Lew of Dracut, were Black rights and antislavery advocates, construction workers, farmers, and musicians. In fact, some family members performed a 1861 concert in Mechanics Hall for soldiers leaving to fight in the Civil War. Harry "Bucky" Lew was the first Black man to play professionally in basketball during the 1902-03 season on the New England Basketball League. Elizabeth Lew's house on Mount Hope Street was an underground railroad stop.
More of the Story
The Lew Family story began with Primus of Groton, a former servant of Captain Jonathan Boyden and Margaret Lew, a former servant of Samuel Scripture. As free blacks, Primus and Margret Lew married in 1742 and they had two sons and two daughters. Primus served as a musician in the 1747 French and Indian War. In 1752, Primus married again, Rose Canterbury. They bought a farm on the west side of the Nashua River in the Pepperell section of Groton and had two children. Even in the early 1900s, this section of Pepperell was called Primus Hill and the nearby depot of the Fitchburg Railroad Branch Line was called Primus Station.
Primus and Margret's oldest child, Barzillai Lew (pronounced BAR-zeal-ya) often called "Zeal" or "Zelah," was born November 5, 1743. He was described as "big and strong with an extraordinary talent as a musician." He was a member of the English forces in the 1760 war against the French and Indians. About 1767, he bought Dinah Bowman's freedom for $400 and married her. Early in the American Revolution, his skills and talents were called upon again and he served with Captain John Ford at the Battle of Bunker Hill on June 17, 1775 as a fifer. On Barzillai Lew's return to Chelmsford, MA, he joined Joseph Bradley Varnum's Militia from Dracut, MA. In September 1777, they were sent to Fort Ticondaroga to engage Burgoyne's Army. Jonathan Varnum, Joseph B. Varnum's son, wrote in his diary on November 1, 1777, "Zeal" is selected as a fifer and fiddler for the grand appearance the day that Burgoyne's Famous Army is to be brought in. A Wonderful Show …"
With wages from his military service, Barzillai and Dinah purchased a large tract of farmland on the far side of the Merrimack River. They built a house near Varnum Avenue and Totman Road, then called Zeal Road, named after Barzillai. As active members of the community, they were members and musicians at the Pawtucket Society Church on Mammoth Road. In 1832, this church organized the first anti-slavery meeting for the Greater Lowell area.
Barzillai and Dinah had thirteen children. Some worked on the Middlesex Canal, some farmed in Pawtucketville, while others moved to Andover, Boston, and Charlestown. The Lew Family was noted throughout the 19th and 20th centuries as well educated, skilled, and talented musicians. It was said that "no family in Middlesex County from Lowell to Cambridge could produce so much good music."
After his death in 1822, Barzillai Lew's Pawtucketville farm went to his sons, Zadock and Zimri. Zadock, a well-known musician, died in 1826 without a will and his property was sold at auction. Zimri died in 1847 in a tragic train accident in Lowell on Fast Day.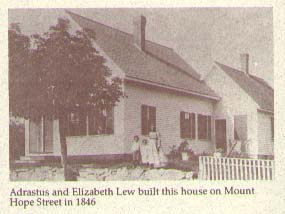 A few year earlier in 1844, Adrastus Lew, Zimri's son, married Elizabeth Freeman of Derry, New Hampshire. They purchased and cleared a piece of woodland off Riverside Street in the Pawtucketville section of Dracut (now Lowell) and built a house which still stands on Mount Hope Street. In 1912, at the age of 91, Elizabeth Freeman Lew recounted in an interview with the Lowell Sun:
The house where I live was, one of the houses which in slavery times, formed one of the underground railroad where runaway slaves word come for shelter and protection on their way to Canada. Those were terrible times.
Adrastus and Elizabeth had five sons and one daughter. James, moved to Cambridge, formed a popular dance band, and served as the music advisor to the Cambridge School Committee. William and Fred opened a successful dry-cleaning and dyeing business in Lowell.
In 1874, William married Isabell Delaney of Virginia and raised four children – Harry, Theresa, Marion, and Girard. After graduating from Pawtucket Junior High School, Harry Lew entered the family dry-cleaning business. He was recruited by the Pawtucketville Athletic Club of the New England Professional Basketball League and was the first to integrate professional basketball in 1902. Theresa Lew graduated from Lowell High School and was Class Salutatorian in 1912. After finishing Lowell Normal School, she taught at the Bartlett School for 25 years. Marion Lew graduated from Lowell High School and the Lowell Normal School music program. She then taught piano to generations of Lowell children. Girard Lew, an outstanding athlete, graduated from Lowell High School and the University of Massachusetts Amherst. He became an educator and trainer, first in the South and eventually he worked in Chicago. He was interviewed by the Lowell Sunday-Telegram in June 1913, about his experiences teaching in a poor, rural, segregated school in Gloucester County, Virginia.