Ghost Signs Alive, an all-volunteer Do-it-Yourself Lowell Project Team, has spent the past year researching faded historical signs in downtown Lowell. During their debut illumination event starting December 18, the nearly invisible J.C. Ayer sign on the building at 172 Middle Street will be recreated on the building using a projector. A community project, GSA has been the result of a sustained collaboration between local researchers, artists, historians, archivists, and businesses.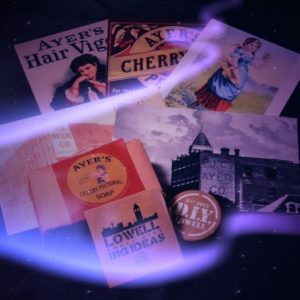 The Project Team updates their Facebook page with fun facts about J.C. Ayer Co., and even more exciting, the talented team at Red Antler created a batch of limited edition soap inspired by Ayer's Cherry Pectoral. The team is raising funds by selling this soap along with five distinctive postcards designed by the team and printed by Owl Stamp–from a single postcard for $1.50 for a $15 for an entire gift basket. We're proud to be part of Lowell's Virtual Market.
More about J. C. Ayer Co.
James C. Ayer's companies made patent medicines, including a popular cherry concoction known as a pectoral. The company thrived during Lowell's heyday in the late 19th century, but now there are few visible traces of the once expansive empire. Working with local experts, the DIY Lowell team has done research into Ayer's companies, how they advertised, and what the sign on Middle St. may have looked like a century ago. This building with the faded Ayer sign was once part of a much larger, bustling industrial complex run by J.C. Ayer Co. Through the new year, an animated recreation of Ayer's historic style will turn the ghost sign into a bright and vivid presence on Middle St. Just as Ayer promised improved "vigor" to consumers, this project seems to invigorate a vanishing piece of the city's past.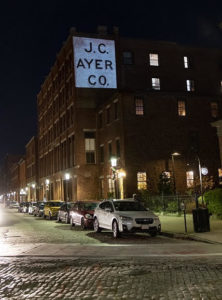 While recreating ghost signs has been the project's primary goal, the preparation work has been a bright spot for the many volunteers who have given their time, especially during a pandemic, to see it through.
Special Thanks
Special Partners
Gallagher & Cavanaugh LLP
Red Antler Apothecary
Sponsors
Cambodian Mutual Assistance Association
Enterprise Bank
Greater Lowell Community Foundation
Historical Research Help and Photos
Bill Walsh
Cliff & Linda Hoyt
Richard Howe, Jr.